Are you wondering for the best chrome extensions to make your repetitive work easier and faster? Then this article will help you to a great extent.
Blogging is not a piece of cake; it requires lots of effort and time. You have to manage different tasks such as content writing, organise content, link building, traffic and more which consume a lot of time.
But there are some tools which you can use to make your repetitive tasks easier and fast. It helps you to save your time and effort which you can use for other productive work.
Google chrome is a well-liked web browser that offers you numbers of chrome extensions to make your work effortless; that's why it is the most popular web browser to date.
There are thousands of Chrome extensions and apps available on the chrome web store which you can use to customise and improve the browsing experience. They also help you to improve your work productivity.
So, today in this article, I am going to share some best chrome extension for blogger, which makes your work easier and faster and improve your productivity.
So let's Begin
Grammarly
If you want to ensure your content is grammatical and spelling error-free, then this tool is for you.
Grammarly is the best free chrome extension to help you to write your content without any grammatical mistake.
Grammarly gives you feedback on grammar, punctuation vocabulary and sentence structure. It supports Google docs, WordPress editor, Blogger post editor and Microsoft Word pad. It also helps you in writing emails and social media post.
So if you, want to make your content grammar error-free and improve your writing skills then you must use this chrome extension.
There is also a premium version which provides you with some additional features like plagiarism checker and expert writing help, compared to the free version. If you are serious, about your content writing then I will recommend you to go with the pro version.
SEOquake
Seo quake is an amazing chrome extension by Semrush which allow you to see SEO metrics of such as website authority, Alexa rank, numbers of backlink of any website on a single click.
You can also see the difficulty of any keyword it works, nearly about an SEO tool, gives you a short overview of SERP for any keyword. It also provides you complete analysis of your on-page SEO or any other site on a click.
And the best part about this extension, it is free. Yes, you can download and use it on your chrome browser without spending a single penny.
Pocket
Pocket is a perfect chrome extension which facilitates to save article and videos for viewing later.
While we research for an article, it is difficult to get things remembered, for later use.
Here pocket comes to help you, save your article and videos to your pocket account and you can view it later any time anywhere at any device.
It also permits you to access your content without an internet connection. It makes your research task easier for an upcoming article and helps you organize them in a better way.
Awesome Screenshot
This chrome extension helps you for capturing a screenshot of any part of page or complete web page.
After capturing screenshot it allows you to crop, edit, highlight, annotate, draw a shape on it. You can also blur sensitive information, annotate and add a comment on the picture.
Another feature of this extension is you can record video of your screen and edit it to make a change. You can use all these features at free.
Buffer
It is very time-consuming to share any post, picture and video across your all social media profile. You have to log in each site and then add it.
Buffer is a social media management tool which makes your social sharing task very easy and saves a lot of time.
It permits you to schedule your social media post for different social media profile at a different time on the same day on a single click.
It supports all your favourite social media platforms such as Facebook, Instagram, Pinterest and Twitter.
Keyword Everywhere
This extension is helpful for every blogger. This chrome extension helps you to find keywords.
This extension display you keyword metrics such as search volume, CPC and competition of the keyword below your Google search bar and also shows related searches in the sidebar.
Keyword everywhere provides you data google, google trends, bing, youtube, amazon, answer the public, Majestic, keyword shitter, Ubersuggest and more which is an amazing, thing about this tool.
You can try this tool. You will love it.
Stay Focused
As the name indicates, this extension helps you to remain focused on your work by limiting the time you can spend on site which distracts you.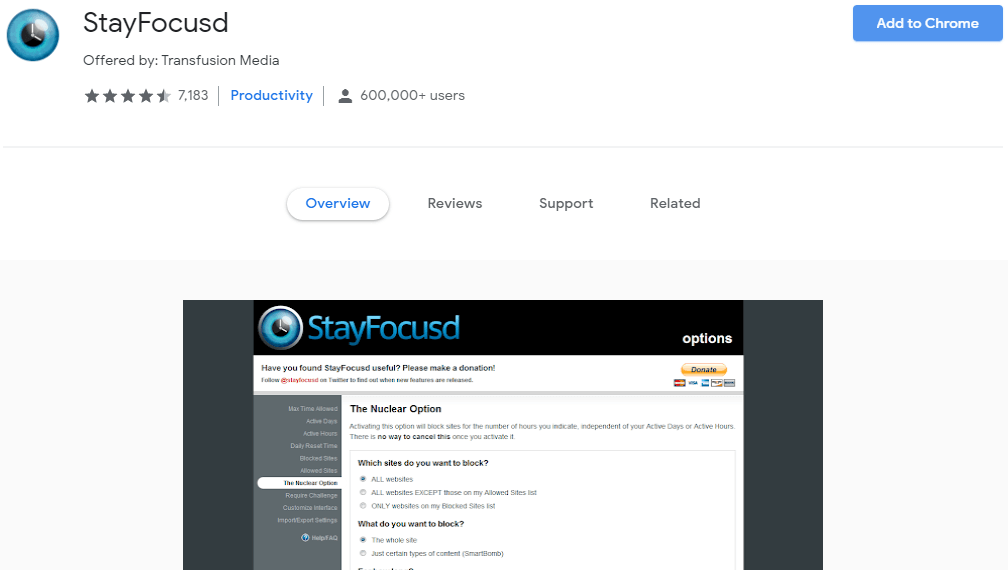 This tool allows you to add all the website in which you spend time procrastination like Facebook, youtube, Instagram, twitter in this tool and set a specific amount of time for yourself to spend on this website.
Once time over, it will block all these time-wasting websites and doesn't permit you to access them for the rest of the day.
If you are suffering from procrastinating and unable to focus on your work, then you must try this extension.
LinkMiner
You know backlinks are how much important for ranking a website on SERP. Then you also know one of the best ways to create backlinks is broken-link-building.
If you are looking for broken-link-building, then this will help you a lot. It is a simple, easy to use and free tool which allows you to find broken links of a web page.
You have to click on the button and, it will provide you with broken links quickly with a red background.
It also gives you the option to show the error code and numbers of backlinks for each link of a web page. Along with it also show important, SEO metrics on a click.
Email Hunter
Email hunter is another very-useful extension to find the email of any website in one click.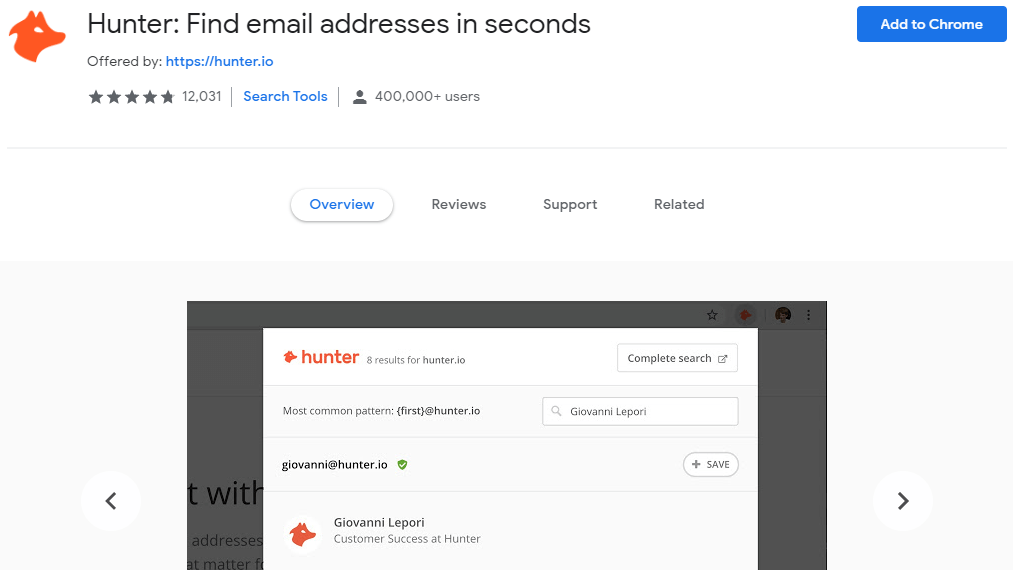 For growing your blog, it is essential to outreach other bloggers and make a connection with them. It also helps you to get backlinks for your content.
You need one click and, it's, done. Now it will provide you with all possible emails available on this site.
It also autosaves extract emails. Now you can export these emails to a file and filter them and find useful emails for you.
Mail Track
Emails play a significant role in digital marketing.
If you do outreach through your Gmail, then you will find this chrome extension very useful.
This chrome extension helps you to know whether the recipient opened your email or not.
With the help of this information, you can take followup of your recipient and may increase your outreach conversion.
Mailtrack provides reminders, daily tracking report, line tacking and other amazing features.
What Font
If you want to improve your web page design, Better than your competitor, then you need to focus on font and text colour. But how could you find the font of other webpages?
Here what font comes handy. This extension helps you to find the font of any web page. It is easy to use.
To know the font of any text, click on the extension and hover the cursor on the text you want to check it will provide you with that text font name and other details.
Final Words
So, friends, these are some of the best chrome extensions which I use. I hope these extensions will help you to make your work trouble-free.
But still, there are thousands of Chrome extensions available on chrome web store which you can try according to your need.
If you want to add some more extensions, which are useful for bloggers, you can mention it in the comment.
Don't forget to share this article with your friends.
Thanks! for reading the article.