Do you want to start your blog? Well, you made the right decision.
It was the best decision which I have taken 16 months before. After that, my life has completely changed. Now I think that this was the best decision of my life which I ever made in my life.
Do you also want to change your life and know how blogging can change your life and how to start a blog that will make money for you?
Then you are in the right place. In this article, I will tell you to step by step procedure on how to start a blog.
Believe me, after reading this article, you will be able to start your blog, and this will be your first step toward success.
Starting a blog is not rocket science. It's an easy process, but you need proper guidance on how to start that will generate passive income for you.
Here I am sharing with you a step by step procedure to start your money-making blog without making any mistakes with some advanced tips for converting a blog to a profitable blog.
But,
Before knowing the step by step process of making a profitable blog. Do you have a question in your mind about why you should start a blog today?
So let me tell you blogging is becoming hard day after day. As early as you start your blog, you will get benefits and opportunities than others who will start later than you. Here are some strength of blogging.
You can express yourself by writing the Content.
Blogging helps you to become a better thinker and writer.
You will come in contact with new people and followers through comments, emails, and social media.
You can help other people and inspire them through your blog.
You can expand your business by promoting it through your blog.
Blogging makes you accessible, and you become more confident.
Most importantly, you can make money through your blog by Running Ads, Sponsored Posts, and Affiliate marketing.
Have a look at some real-life income proof
Neil Patel – Author, Entrepreneur, Marketer and Blogger.
Pritam Nagrale Owner of MoneyConnexion and Surejob.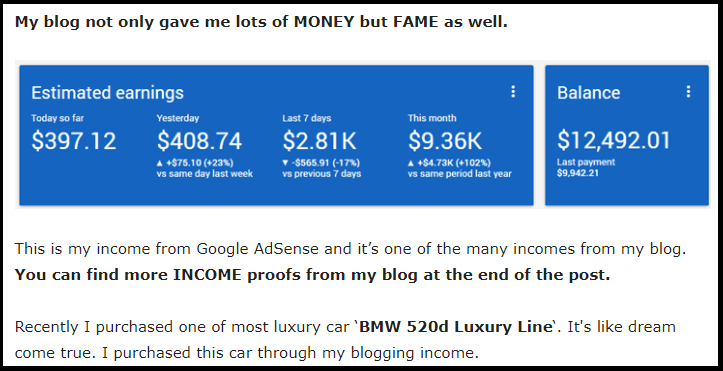 I think you got your answer to why you should start a blog and how blogging can change your life.
Now let's start
Step 1 – Choosing a niche for your blog
It is the first and most crucial step to start a blog. This step will decide the future of your blog.
Let me clear you if you choose the right niche, then you can grow your blog very fast, and you can make passive income from it. But if you select the wrong niche, then you will not get success in blogging.
Most of the newbie bloggers make mistakes in this step. They start blogging in the niche in which they are not passionate by seeing others, and the result, they quit blogging in the early six months.
Not selecting a particular niche for your blog is the direct path to lose the game.
Now you are thinking about how we can find a perfect niche so that you will not regret it in the future.
It is straightforward; you have to choose a niche in which you are interested and profitable.
Let me help you to choose a profitable niche for your blog,
Find the answer to these questions
Are you interested in that topic?
Can you write a 30+ article about that topic?
Are people searching or want to know about that topic, which means that the topic has a good volume of keywords?
Can you earn money from that topic by an affiliate, ads, and some other ways?
If your answer is yes, then you can go with that topic. If you are still unable to find a niche for your blog, then do this.
Take a pen and paper
Write down your interests, which you want to do in your life.
Now choose one, which is your most favourite.
Check you can earn through that topic.
That will be your profitable niche.
These are some easy steps to find your niche. I hope now these steps will help you to find a profitable niche for your blog.
Step 2 – Select A Blogging Platform
Now in this step, you have to choose a blogging platform for starting a blog. There are two most popular blogging platforms free and Paid or self-hosted (recommended).
Free Platforms
There are several open blogging platforms that you can use to start a blog, such as Blogger, WordPress.com, Wix, Tumbler, and others. But a free blog has a lot of limitation such as
Your blog domain name will look like yourname.blogspot.com, yourname.wordpress.com, which is lengthy and challenging to remember.
You do not own your blog, a free blogging platform holds it, and you have to follow their rules and restrictions.
You can lose all your data or even blog and can't do anything; they can delete your content or blog if there is any policy violation.
You do not edit and customize everything; the free blog has many limitations.
You can lose various advertisers, clients, and even readers because they don't take you seriously.
Paid or Self-Hosted Platform
Paid or self-hosted gives you full freedom, here you are the owner of your content and blog. There are various CMS (content management systems) for the self-hosted platform, but WordPress is the most popular CMS. There are multiple benefits of using WordPress, a few of them are
It permits you to run your blog by using your domain name.
Your domain name looks like yourname.com, which is short and easy to remember.
There is no limitation to design. You are free to customize your blog as much as you can.
You have a lot of plugins, which makes your work easy.
It permits you to control your blog altogether.
You can add multiple users as admin of your blog and allow them access.
It is easy to use.
WordPress comes with many features and a 100% customization option; you can design an excellent blog with WordPress.
Now, you have a question in your mind which platform should you choose?
If you want to start a blog as a hobby, then you can select a free platform.
But if you want to start blogging as a business and serious about it, I highly recommend you go with a self-hosted platform. You can begin it only around 100$ ( Domain + Hosting).
I hope now you understand which platform you should choose.
Step 3 – Select the Best Domain Name for your blog
Selecting a domain name for your new blog is not hard, but it is also an essential step because it will represent your blog niche, so you have to go for the right domain name for your blog.
For instance, if you are thinking to start a blog on gaming or tech, your domain name should be like gamezone.com or Techworld.com.
I hope you got the idea.
Try to follow these points while selecting a domain name.
Try to keep it short and straightforward. It should be rememberable and easy to pronounce.
Your domain name should match with your blog purpose.
You can also use your main keyword in the domain name; it will help you in SEO.
Always try to choose a .com extension; it will help you to rank worldwide. You can go with .net or .org in the absence of .com extension.
If you want to target any specific country then you should choose country level domains like .in, .us, .ca, .uk, .br etc.
Try to ignore numbers or hyphens in your domain name because it is difficult to remember it.
I hope now you can easily find a domain name for your blog. But if you are still facing problems, then you can find brandable domain names by using the tool LeanDomainSearch.
Step 4 – Finding the best web hosting For your blog at a reasonable price
We have a domain name, now we need web hosting. Most of you don't know about hosting so let me tell you
A web hosting is a place where all data of your blog is stored(like text files, images, videos etc.) and make it live on the internet when someone tries to access it. Hosting is like a hard disk of your computer which stores all your data. There are a lot of hosting providers in the market.
To use your domain name and make it live for all around the world you need a hosting provider.
Now The question is where will you host your blog? Which hosting provider is best?
There are a lot of hosting providers in the market which you can use and start your blog. But i will suggest you go with premium hosting.
I will not confuse you by providing you with a list of web hosting providers. My suggestion is to go with Siteground.
Why siteground?
Because the siteground is best. It is the no.1 web hosting for beginner and literally there service and support are absolutely best. It provides lots of benefits at a reasonable price.
Are you ready to start your blog?
If yes then let's know about it
When I was started my first WordPress blog I tried almost every cheap hosting
For purchasing hosting and domain follow these simple steps:
Visit Siteground here
Now point cursor on hosting there is a dropdown menu, click on web hosting.
Now you are on the hosting plans page. Siteground offers three types of the plans startup, Grow big and Go-geek.
If you want to start only one website, then choose the StartUp plan but, if you are planning to start more than one blog, then you can choose to Grow Big Plan. In the Grow big plan, you can set up multiple blogs with the same hosting without paying any extra charges.
I will recommend you to go with a Grow Big plan because it has more benefits.
2. Select your domain name
You have two option,
if you don't have a domain name select option one, you can buy a domain name from Siteground.
If you already have a domain name then select the second option and enter your domain name.
Now click on the proceed button.
Step 3 Fill your account information.
Here you have to fill all necessary detail which will create your account
Step 4 Enter your credit or debit card information.
Now fill your credit or debit card information.
Step 5 Choose purchase information
Now here select duration for your hosting, i will suggest you to go with one year plan. Then choose data center USA.
Step 6 Agree to terms and conditions
Now confirm terms and conditions by checking the box and click on pay now button.
Wait for few seconds. it will take few minutes to proceed with details
Now check you email for important information related to your account.
Connect Domain With Hosting
If you already have a domain which you have purchased from another domain provider, then you have to connect that domain with Siteground hosting.
After purchasing hosting, you have received an email from Siteground, regarding essential details related to your account, from where you can find Siteground nameservers. Like this
ns1.us203.siteground.us
ns2.us203.siteground.us
Now for a connecting domain with hosting, go to your domain provider and login to your account and then go to DNS settings and enter these nameservers and then save it.
It will take a few hours to connect the domain with hosting.
Step 5 – Setting up your WordPress blog
We have connected the domain with hosting in previous steps. Now we have to install WordPress on it. To install WordPress, follow these simple steps.
Log in to your Siteground cPanel with username and password. You can find the username and password in your email which company sent you after purchasing hosting.
In cPanel go to Softaculous app installer, here you will see an interface like this, now click on the WordPress icon.
Then you will land on the page like this, here you have to click on Install Now.
Now it will ask you to select the language, choose your language and click on continue.
Now here you have to fill your site title, username and password, fill all these information and click on install WordPress.
All done! You have successfully installed WordPress.
For login your WordPress dashboard, type /wp-admin after your site URL. Like this (https://yourdomainname.com/wp-admin).
Step 6 – Choosing an attention-grabbing theme
Since we have installed WordPress now, it's time to change your default theme.
The design of a blog plays a vital role in blogging because if your blog doesn't have a good look, you may lose a lot of traffic. After all, users will not pay attention to your content.
Good design grabs user attention and helps you to build trust with your blog readers. It also helps to increase user engagement and reduce the bounce rate, which helps in ranking. With proper design, you can make your brand memorable.
Now you have a question in your mind which theme should you use for your WordPress blog?
There are many free themes available in the market for WordPress blogs, but I will suggest you use generated press. I also use it because it is easy to use, fast loading speed, and a lot of features.
Not me, but many pro bloggers are using this theme because of its amazing features. Generatepress offers you full customization, and you can design your blog like a pro.
After finalising the theme now, it's to install that theme on your WordPress blog.
For installing any WordPress theme weather, paid or free follow these simple steps
Step#1 – log in to your WordPress dashboard.
Step#2 – Now, in the left sidebar, go to the Appearance section and click on a theme.
Step # 3 – Now, on the left side at the top, add New Click on it.
Step # 4 – Now, if you have purchased the theme, click on the upload button, upload the zip file of your theme, and activate it.
or
If you want to use a free theme, then there are many free themes in WordPress directory, scroll down and choose your favourite one, then click on install and then activate that theme on your blog.
Now visit your blog by putting your domain name on the search to see how it looks.
For customising your theme go to the Appearance section and click on customise, now you can customise your theme.
Step 7 – Important Settings For Your WordPress Blog
You have installed and activated your theme now it's time to do some basic setting of your WordPress blog.
I have seen many new bloggers avoid this due to which they face a lot of problems.
1. Now in your WordPress dashboard, Go to settings and click on general.
Here you will see an interface like this, there are a lot of options, and you have to fill all this information correctly.
2. Now Leave writing option and click on the reading option.
Here you can do settings for your home page like what will display on your home page( latest Post or Static Page), numbers of post display on your home page etc.
Here is an option, search engine visibility, leave this un-check, because if you check this, google will not index your blog post and your article will never rank.
3. Now leave discussion and media and go to permalink
It is essential to choose the right permalinks structure because permalink has a significant role in ranking.
There are six options post, date and time, month and name, Numeric, post name and custom structure.
But you have to select the post name because it is SEO-friendly.
Now we have done all the necessary settings of the blog successfully. Let's move on the next step.
Step 8 – Important Plugins for your WordPress Blog
Rank Math SEO
Rank math is a free SEO plugin which helps you for writing SEO-friendly content and optimising your content so that you can rank higher on google.
Akismet anti-spam
It is an anti-spam plugin which monitors spam comments on your website. It is free, and you can install it from the plugin section.
Wp Rocket
Website speed matters a lot for ranking on search engines. Wp rocket optimises your website and boosts its speed.
Social Snap
You know social media plays a vital role in getting traffic. It is a perfect social sharing plugin which helps you to get referral traffic from social media platforms.
Resmush.it
This plugin optimises your website images and makes your website loading faster.
iTheme Security
In the online world security is an essential factor. This plugin helps you to secure all your blog data. It is the one-stop solution for your online security worries.
Contact Form 7
This plugin helps you to create contact us form for your blog quickly and fast without affecting your website speed.
Thrive Lead
If you want to collect email addresses of your blog readers, then you should use this plugin. With the help of this, you can make overlay, content lock, popup lightbox, sticky ribbon, screen filler and more.
Thrive Architect
It is a page builder plugin which allows you to create a fantastic landing page for your blog. By using this, you can create stunning pages for your blog and set your blog apart from others.
Updraftplus
Backup of your website is very important, and this plugin helps you with this task. This plugin allows you to automate it to take website backup daily, weekly or monthly.
Step 9 – Writing and publishing your first blog post making it live
Well, finally, we have created a blog successfully, now it's time to write a blog post for your new blog.
Are you confused about how to write a blog post?
Let me guide you to write your first blog post. Firstly congratulations on your new blog. I wish you will take it to the next level.
For writing a new blog post go to dashboard then post and click on add original.
Now you will see an interface like this; it is your blog post editor, here you can start writing your first fantastic post.
You can follow these tips which will help you to write your blog post.
If you are struggling with finding a topic for your blog post then do some keyword research about your topic, you can easily find some easy to rank keywords for your blog post.
Before writing, do some content research, put your targeted keyword on the google search bar and check top tan ranking articles, now write blog posts better than those.
Always write an in-depth blog, try to cover all the information around your keywords.
Your blog title should be click-worthy, use numbers, modifiers and current year to make it eye-catchy.
Add images in your article to make it complete, avoid using copyright images.
I hope these tips will help you to write your blog post.
Step 10 – Proven Ways To Make Money From Your Blog
Now It's time to know about your favourite step, how can you generate revenue from your blog?
There are a lot of options by which you can monetize your blog and earn money. Here I have created a list of most trusted sources for you.
1. Add Network – It is the most common way to monetize your blog and earn money. There are many ad networks like AdSense, Media.net, Infolinks and popup ads which you can use to monetize your blog. But AdSense is best, and it is powered by google.
But I will suggest you don't depend only on ad networks because for this you need a lot of traffic on your website and also there is a possibility Google can suspend your account if you violate its policy.
2. Affiliate Marketing – Affiliate marketing is the best way to earn money online, I love it because, in affiliate marketing, you can make a decent amount with low traffic, but your audience should be targeted.
There are different affiliate programs like Amazon affiliate, Flipkart, Click bank, Commission Junction and more which you can join and earn money from your blog.
3. Sponsorship – This is another best way to earn money from your blog. You can earn 100 dollars for your sponsored post.
When your blog starts growing and builds authority, you may get offers for sponsorship from various sources.
4. Selling Course or Ebook – You can sell your course or e-book to your readers and earn money from your blog. But for this first, you have to build trust towards your blog readers. You can create a course in your expertise and can sell it at a reasonable price.
5. Consultancy Services – If you are expert in any particular field like personal finance, you can provide consultancy services to your audience and charge a decent amount.
They will pay you directly, and hence you can earn money from your blog. It is one of the best and fastest ways to make money from your blog.
Final Word
So this is the complete detail guide how to start a blog in 2020 that actually make money.
I have tried to cover every topic that is necessary to start a blog. Although if you have any query, let me know in the comment section.
If you found this guide helpful please be sure to share it with your friends.
Thanks for visiting!