If you are running a website, then you must know about SEO. But what does it mean? And how much it is crucial for our website.
If this annoying question irritates you, then you are in the right place.
Today in this article, I am going to cover all questions related to SEO. This article will help you to clear all your doubts about SEO, such as what SEO is, its type, how it works and best SEO practices etc.
Believe me; if you read this complete SEO guide without skipping any step, you will learn a lot about SEO.
So, let's start.
What is SEO?
It is a short form of Search Engine Optimization. SEO is a way of optimizing your website or blog for search engines; so that it could rank on SERPs in the first position for the targeted keyword.
It is the combination of two words, Search Engine, and Optimization.
Search engines are the websites that show the links of other sites on the search result page as per user query.
When you have a query in your mind and are not getting an answer, what do you do?
Generally, people search that query on google and found the answer. But Google is not the internet then what it is?
Google is a Search Engine that provides you with the solution to your query. There are several search engines apart from google like Bing, Yandex, CC Search, DuckDuckGO, etc.
I hope now you understood what a search engine is.
Optimization means to make your website or blog favourable.
That means using SEO you can make your website or blog favourably for a Search engine so that it gets position on the search results of search engines.
Do you know only WordPress users publish approximately 2 million posts every day that means 24 blog posts every second?
With the growth of the internet, it becomes an essential part of life, most of the people around the world look for the search engine to find information.
When we type any word on a search engine, it shows numbers of results related to that word.
But the websites or blogs that show on the first position on the search result has this question come in your mind why it is in the first position? And others are second and third and so on.
The main reason is SEO.
I hope now you understand SEO.
Why SEO is important for Blog and Website?
As I mentioned earlier, there are millions of websites on the internet, and over 2 million posts are published only by WordPress users. If we count all blog posts, then that number will be high.
So you can understand the competition, and it is increasing day by day. But if you do SEO in the right way you can easily rank your website on SERP.
Now you are thinking about how to do SEO in the right way?
Don't worry, as I promised you after reading this article; there will be no question in your mind regarding SEO.
So if you want to do SEO of your website or blog in the right way then keep reading this article without any distraction.
What is SEM?
SEO is the best process to drive traffic from the search engine, But if you are providing services and selling products through your website and not getting traffic, then SEM can help you to drive traffic from search engines.
SEM is a paid way to get traffic from search engines. If you have a personal blog, then I will not suggest you bring traffic to your website by using SEM.
SEM is the best way to drive traffic to your website for those people who are running an online business and need to grow fast by promoting it.
Difference Between SEO and SEM
SEO is free while SEM is paid.
By using SEO, you can rank for a long duration at any keyword while with SEM as long as you are paying to google it will show your website at peak. Even as you stop paying, it will outrank your website.
If you drive traffic to your website by SEO, then you will get preference from Google, and it will increase your trust.
But with SEM as I told you earlier as long as you are paying to google, it will love you, but once you stop paying, you will find your website on original in SERP.
Here you can see in this image the top result is getting fewer clicks, only 10% while the following result is getting more clicks up to 90%.
Why?
If you see the image, you will notice the above result has a small icon of Ad on the right side.
Because of that, users do not consider these websites trustworthy, and that's why they get fewer clicks.
Generally, users think that if a website is ranking on the first position by paying, then it will be making its profits somewhere.
Visitors also think that if they visit their website, they will see paid things rather than free that's why they don't find these types of websites helpful.
Types of SEO
Mainly there are three types of SEO
On-page SEO
Off page SEO
Technical SEO
On-page Seo
On-page SEO means the optimization that we do inside our website or blog is known as on-page SEO.
Many things come under on-page SEO such as keyword research, Post title, permalink, Post Description, keyword density and more that we will discuss in detail.
On-page SEO plays a vital role in your website. If you do proper on-page SEO, you can rank your website without backlinks because it contributes 60 percent of the total SEO of your website.
Now let's know about the factors which we have to cover under on-page SEO in detail.
Keyword Research
Keyword research is an essential factor for the ranking of a website or article. If you choose the wrong keyword, then it isn't easy to rank on that keyword.
For instance, you write an article on that keyword which has deficient search volume and great difficulty; then there are few chances to rank on that keyword.
So before writing an article, do proper keyword research and find some low competitive and high search volume keywords. Then write the post.
Believe me; if you follow this procedure, you can rank your article easily even without backlinks.
Also, use LSI keywords in your article, it will help to rank your post, on multiple keywords.
Mostly newbie bloggers make this mistake, and they do not use LSI keywords in their article and lose lots of traffic.
Now you are thinking about what LSI keywords are, and how can you use them in your article?
LSI is the abbreviation of "Latent Semantic Indexing" keywords that means keywords similar or related to the primary or targeted keyword. Let me show you.
As you can see from the image, I searched for what is SEO on Google. As I scroll down toward the bottom, it shows me many keywords which are related to the main keyword. These keywords are known as LSI keywords.
I hope now you understood about LSI keywords.
Post Title
Post title plays a vital role to rank any website in the first position on SERP. If your post title is eye-catchy, then it will get more clicks, and your website will rank quickly.
Your post title should be SEO friendly to do so you must have to add your main keyword in your post title.
You can also add Numbers in the beginning, Power words and current year at last to make your title click-worthy.
Let's understand this by an example.
Regular Title – How to Create Backlinks?
Catchy Title – 9 Proven ways to Create Backlinks in 2020
On which title you will click?
I am pretty sure you will click on the second title because it is exciting and eye-catchy. Probably 8 out of 10 people will click on the second title.
The First title is typical and used in many posts; it is not attractive. Maybe 2 out of 10 people will click on this title.
I hope now you have an idea, how to write click-worthy tiles to get more clicks on it.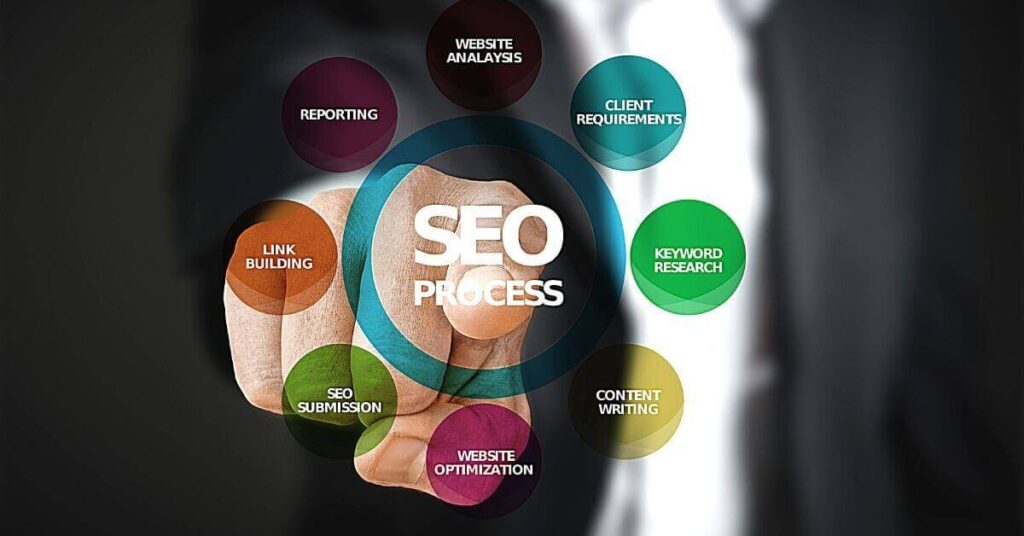 Post Permalink
It is essential to make your permalink SEO friendly, although it is not a much important factor in SEO. But SEO friendly permalink is better for SEO.
Always add your primary keyword in the post URL. Avoid using stop words like is, Am, are, on in post permalink.
Try to keep your post Url small and straightforward as much as you can. Let's understand this with an example.
Bad Url – https://seekblogging.com/ how-to-create-backlinks-in-2020
Good Url – https://seekblogging.com/create- backlinks
Keyword Density
It is necessary to use keywords in the right position and inappropriate amount in your article. Excess use of keywords in a post is called keyword stuffing.
Google doesn't like keyword stuffing if you do this, Google will never rank your article; instead, it will lower your website ranking. So don't do keyword stuffing and use them in appropriate quantities.
Always use your main keyword in the first and last paragraph in your article. Tray to use keywords naturally, don't insert them forcefully.
During article writing, try to keep keyword density below 1.5 per cent. Remember you can use your targeted keyword 10 to 15 times in 1000 words article.
You can use LSI keywords instead of your primary keyword to avoid keyword stuffing.
Internal Linking
Internal Linking is the best practice for ranking any website. By doing internal linking, you can add your related posts in one article.
Internal linking reduces bounce rate and passes link juice to other articles that are helpful for their ranking.
Remember one thing during interlinking, the post that you are linking should be related to the anchor text. In internal linking try to add related articles, to the content which you are writing.
Also, it is beneficial for other articles ranking in SERP.
Outbound Linking
Outbound links are external links that point to another website from your website. If you add external links in your article, then it will increase the trust of your content. Let me tell you about an experiment.
Shai Aharony and his team experimented. They have invented a fake miracle beauty compound named Phylandocic, which is entirely unknown to google, which means that there are no search results for this keyword in SERPs.
Then they have created 10 Websites with 300 words articles about the new products Phylandocic that is the target keyword.
They have linked five websites with high authority external links, and rest five sites with no external links.
A few days later, they searched the targeted keyword, and the results were shocking.
He noticed that the website with outbound links ranking in top 5 and the rest five website ranking in top 10 results.
So what did you learn for this experiment let me know in the comment section?
Some SEO Specialists think that external links may harm your website, but if you use it appropriately, then it is beneficial for our website.
When you insert an external link in your article, then you need to follow these rules.
The site that you are linking should have high DA and PA
Spam score of the link must be zero.
Try to add links to that site which have related content to your site.
Avoid linking to that site which contains pornographic content.
If you follow the above points in your outbound linking, then trust me it will increase search preference of your content.
If by mistake you add low-quality external links in your content, then Google may penalize your website.
So, before adding any outbound link, do proper research.
Alt Tag
Alt Tag refers to alternative text also recognised as Alt attributes and Alt descriptions that is an Html attribute which is used in image tag to give alternative text for search engines.
Use of alt tags in images is essential, and it significantly increases the possibility of the ranking of an image that we use in your website.
Many newbie bloggers make this mistake not to use alt tags in the image. The alt tag is an integral part of image SEO.
Off-Page SEO
Off-page SEO refers to the entire work that we do for SEO, outside our website to make it friendly for search engines.
Off-page SEO is necessary for every website owner because it contributes significantly up to 40 per cent of total SEO.
After publishing an article, we follow some techniques to rank it; these techniques are known as off-page SEO techniques.
Off-page SEO is done to get backlinks so that we can increase the ranking of our website. Off-page SEO covers Search engine submission, directory submission, guest posting, Social media marketing, video marketing and blog commenting.
We are promoting our website and driving traffic from other traffic channels to our website.
I hope now you understood, and how much it is essential for our website or blog. Now we are going to discuss critical off-page SEO ranking factors which need to follow for every website owner.
Guest Posting
Guest posting is the best and most effective way to create backlinks that help in the quick ranking of your website.
Firstly you have to find the websites with high traffic related to your niche and contact them. After that, write high-quality articles and request them to publish your article on their website.
Then they may publish your article on their website with your name and a website link. It will increase your website reputations and also you will get a high-quality backlink.
Generally, high authority websites charge for guest posting, but there are several websites which allow guest posting.
If you have excellent communication skills, then you can easily convince them for guest posting at free of cost.
Forum Posting
Forum posting is another great way to create high-quality backlinks. The process of creating backlinks on such forum sites is simple.
There are several forum posting sites on the internet where you can solve user queries by answering their questions and add your website link.
By doing this, you will get high-quality backlinks and also drive the right amount of traffic to your website.
You can use Quora for answering the user's queries. It is the most trusted and old website. You can easily create backlinks from this website.
If you do affiliate marketing, then Quora is a great platform that can help you to generate sales of your affiliate products.
Blog Commenting
Blog commenting is a straightforward and easy process to get high-quality backlink from other websites.
Generally, newbie bloggers comment on several websites so that they can increase their numbers of backlinks. They think that as much as the comment, they get more backlinks and their website ranking will increase.
But Does it work?
Bloggers who comment 20 to 30 times each day to create backlinks are pushing their website into the spam list. Once it goes to the spam list, it will never index again.
You need to follow some tips while commenting on other websites.
Firstly, inspect that website whether it is indexed or not on google. If yes, then you can comment on it. Never comment on such sites which are not indexed in google.
The website in which you are commenting should be related to your niche.
You should check the DA and PA of the website before commenting. Avoid commenting on such sites which have low DA and PA. The sites which have DA and Pa above 25 are suitable for comment.
Directory Submission
Directory submission is a free way to make backlinks and increase the search ranking of your website. Submitting your site or blog link to a web directory is known as directory submission.
If you make directory submission, you can index your website in all search engines without paying.
Advantages of web directory Submission
You get safe backlinks and get improved website quality
It increases the domain authority of your blog
Improve the Alexa ranking of your blog.
It helps in fast indexing of posts and pages of your website.
Social Bookmarking
Social bookmarking is an excellent method to book links to your website on social media platforms such as Facebook, Twitter, Instagram, Reddit, Tumblr etc.
By social bookmarking, you will get a high-quality backlink. It is the most effective off-page SEO technique which has several benefits such as
Get a lot of traffic from social media.
Get High-quality backlink.
Improvement in Alexa ranking
Video Marketing
Video marketing is a fantastic way that can help you to drive traffic to your website. Generally, people use videos for promoting a product or service.
As we know, video consumption increased drastically, and it is the future of marketing. So I will highly suggest you create your youtube channel.
You can repurpose your content, convert your article into video form and share your knowledge with people.
There are several video platforms, but Youtube, Facebook watch and IGTV are most popular, you must give a try to these platforms.
Technical SEO
Technical SEO points out all the technical processes that we do to make a website favourable for the search engine's indexing and crawling stage.
With the help of technical SEO,we can help search engines access, crawl, interpret and index our website without any problem.
In technical SEO, we have nothing to do with the content of our website or its promotion. To optimize the infrastructure of our website is the main motive behind technical SEO, that's why we say it technical SEO.
Technical SEO covers a lot of factors such as website speed, website structure and navigation, mobile-friendliness, canonicals URL, 404-page optimization, breadcrumb menu, robots.txt file etc., which we will discuss in detail in separate articles. But one of them which is most important, I am discussing here which you need to follow.
Website speed
As per google the website which takes more than 3 seconds to load then it is hard to rank that site.
So always try to decrease the loading time of your website. To boost up the speed of your website, follow these tips.
Choose the best hosting provider
Avoid using more plugins, use only those which are essential.
Try to use lightweight themes such as Generate press, Astra pro, studio press and genesis.
Always compress images before using it on your website.
Try to use a cache plugin like wp rocket, wp total cache and wp super cache.
Seo Techniques
There are three types of SEO techniques.
White hat SEO
Gray hat SEO
Black hat SEO
White hat SEO
White hat SEO is the method of SEO which is a purely ethical technique of ranking your website on SERPs.
It is the best SEO practice which can help you to get millions of traffic. It allows you to rank at any keyword for a long duration.
If you use white hat SEO technique, you will never have to face google penalty because Google loves it. Few white hat SEO techniques are
Always follow search engine guidelines.
Produce Good quality content.
Avoid falsehood.
Grey hat SEO
Grey hat SEO is the technique of SEO which includes the methods that are not noticed by google strictly but fall under unethical methods. It is a balanced mix of white hat and black hat SEO techniques.
Your website may rank higher by using this SEO technique until google or other search engine notice you but, once search engine found you are doing falsehood, it may penalise your website.
Black hat SEO
Black hat SEO is also a technique of SEO which allows you to rank at any keyword easily, but it is unethical and has many disadvantages.
If you are running a website on blogger and you follow black hat SEO techniques, then Google may suspend your website without any warning.
And if your website is on wordpress and you use black hat SEO technique, then google may penalise your website, and it may be out of indexing. Some black hat SEO techniques
Keyword Stuffing
Creating excess low-quality backlinks
Using PBN (Private Blog Network)
Making spammy links
I highly suggest you use only white hat SEO technique and avoid using a grey hat and black hat SEO technique. It will keep your site safe from google's penalties.
Final Words
I hope you learned a lot about SEO from this article and now you have a good knowledge of SEO.
If you have any query or suggestion, feel free to mention in the comment section.
If you found this guide about SEO ( Search Engine Optimization) useful, please share it on different social media platforms.
Thanks!
Also, read